America's Premier Manufacturer
Global Supplier
Industry Specialist Since 1973
World Class Quality
Durable Precise Products
Competitively priced
Custom Choices
Prompt Delivery
Guranteed Satisfaction

Tape
Paper
Textile
Non-Woven

Film
Plastic
Foil
Packaging
History of Dependability - US & Worldwide
Since 1973, Burris Machine Company, Inc. has been an industry leader in providing multiple-use score cut knife holders, shear cut knife holders, circular knives, slitters, crush-cut knives & pneumatic knife holders to many various industries. Burris manufactures for converting needs both domestically and worldwide.


Patented productivity-enhancing Knife-Bank
Precision-engineered, custom-sized knife banks have been a popular addition to our line. A patent has been awarded to Burris for the components and process of manufacturing this specialized equipment. For many customers, these knife-banks have provided boosts in productivity by allowing quicker changeover in converting runs as well as more precise & predictable cuts of product.
All Parts and Components Available
In response to customer needs, Burris makes every part and component of its knife holder available, including new pneumatic hoses and blades. Specialized knife blades and labor-enhancing tools allow the customer to maintain and extend the life of Burris-provided products. For the customer who chooses, Burris will rebuild and refurbish knife holders, knife banks and sharpen knife blades.

Burris, in addition, can provide specialty industrial knives and knife holders on a "made to order" basis.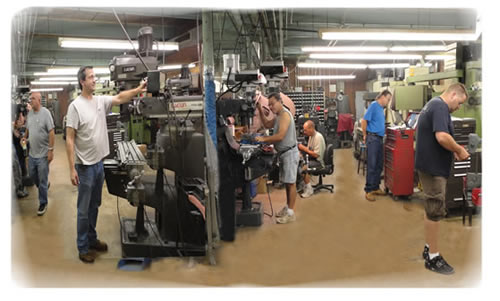 President's Message - Commitment to Quality & Customer Satisfaction:
Burris Machine Company's management, skilled engineers and machinists are dedicated to producing the highest quality score-cut knife products and accessories available in the market place. Prompt delivery, competitive pricing and quick response to our customers' needs have enabled us to develop and retain a strong, worldwide customer base.
With pride, we stand behind our precision-engineered, trouble-free products. Our experienced, USA-based workforce is committed to your satisfaction.
Jerry B. Sellers, President