SCORE CUT PRODUCTS
Knife Banks

Burris Machine Company has received a patent on its combination Knife Bank/ Knife Holder technology (design, components and assembly). Other terms used to refer to this product are Knife Blocks, Knife Score Packs, and Cassette-design Assemblies.
The Burris Knife Bank is a precision assembly of Knife Holders which gives exact-cut widths and overall web-width accuracy. The Knife Bank is designed to attach to the Dovetail Bar of converting machinery. One of the unique features of Burris's patented design allows the customer's maintenance personnel to service individual Knife Holders within the Knife Bank assembly. By having the ability to access the internal parts of individual Knife Holders without disassembly of the Knife Bank, the customer prevents any disturbance of the Knife Bank's precision spacing and alignment.
These productivity enhancing, converting components are built to customer specifications by skilled machine craftsmen, who precision-engineer each Knife Bank for outstanding performance, accuracy and long-life. The pre-assembly of knife holders enables one-step setup and thus reduces downtime while ensuring accurate, pre-planned cuts. Replacement parts are available for extra long service life. For wider webs, multiple banks can be designed for side-by-side fit. As always, Burris products are competitively priced!
Why Invest in a Knife Bank?
Pre-assembly enables one-step setup
Changeover downtime is reduced
Simplicity of setup allows utilization of less-skilled labor
Precision-machined spacing ensures predictable, accurate cuts
Material loss is minimized
Time and money is saved
Individual Knife Holders can be accessed for maintenance without disassembly of the Knife Bank
Competitively priced
Information to be Specified on Order: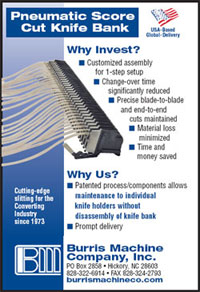 Length/web-width of the Knife Bank
Number of score cut knives per bank

Number of Knife Holders (typically 2 - 32)
Can have side-by-side fit of Knife Bank units for wide web machines

Style of Knife Holder (American or European)
Width of each individual Knife Holder and type of blade
Custom spacing of Knife Holders in Knife Bank

Non-uniform spacing of Knife Holders available
Precision-machined spacers per customer requirements

Quick-release dovetail bar clamps on Knife Holders in Knife Bank
Various choices of hose assemblies