SCORE CUT PRODUCTS
Dovetail Bars / Sleeves
Dovetail Bars
Generic Knife Holder -Dovetail Bar Mount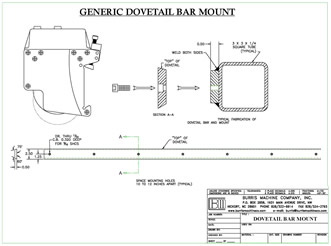 Precision machined steel bars available in custom lengths for attachment of knife holders and knife banks to slitting machinery.
To Order, provide Burris the:
Length of the Dovetail bar
Hole Pattern measurements for bolting to your specific machine
Standard Knife Holder/Dovetail Bar Dimensions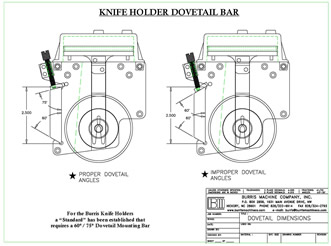 Slitting Roll Sleeves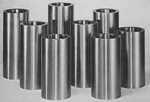 Our Slitting Roll Sleeves are made from high carbon, chrome alloy steel, which hardens completely through the sections normally required for this service.
63-64 RC hardness is guaranteed. Repeated grinding will not expose soft areas, as is the case on sleeves which have been carburized or case hardened.
The bores and OD's of these sleeves are concentric within .001 total indicator reading.
The ends are ground square with the axis.
TO ORDER:
Give Burris Part # from table
OR specify dimensions A, B, C, T
Please contact us for information and costs. Special sizes quoted upon request.
Slitting Roll Sleeves

Burris #
Dusenbery
Diamter
A
Diamter
B
Length
C
Keyway
T
501
502
503
504
272001
272002
272003
272004
4.002"/
4.003"
3.0020"/
3.0025"
08"
09"
10"
11"
3/8" x 3/16"
(w x d)
for all sleeves
501-518
505
506
507
508
509
12"
13"
14"
15"
16"
510
511
512
513
272005
272006
272007
272009
6.252"/
6.253"
5.0030"/
5.0035"
08"
09"
10"
11"
514
515
516
517
518
12"
13"
14"
15"
16"
520
521
522
523
524
525
272010
272011
9.312"/
9.313"
8.2530"/
8.2535"
10"
11"
12"
13"
14"
15"
None